The Grainger College of Engineering has selected a new director of the Health Care Engineering Systems Center (HCESC).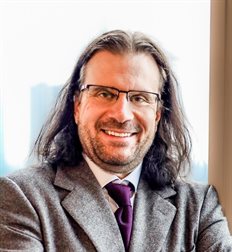 James Rehg is currently a professor at Georgia Institute of Technology's School of Interactive Computing. He is also the co-director of the Center for Health Analytics and Informatics. His research interests include computer vision and machine learning, and his research group at Georgia Tech works in a number of interdisciplinary areas: developmental and social psychology, autism research, mobile health, and robotics.
Dr. Rashid Bashir, Dean of The Grainger College of Engineering said, "His background and research fit very well with the mission and vision of the HCESC, including expanding and aligning it to the digital health efforts at OSF. Professor Rehg brings broad experience and successful endeavors to form partnerships and lead large collaborative efforts that will be critical for future HCESC success."
Rehg will be appointed as the Founder Professor with joint faculty appointments in the Departments of Computer Science and Industrial and Enterprise Systems Engineering. Due to a current project with Meta, Rehg will ramp up his leadership involvement with UIUC; he will be full time starting August 2023.
Thank you to Professor Elizabeth Hsiao-Wecksler, an HCESC researcher who has been serving as interim director since early 2022.